Café Concert, Dinner Music, Pan Flute Soloist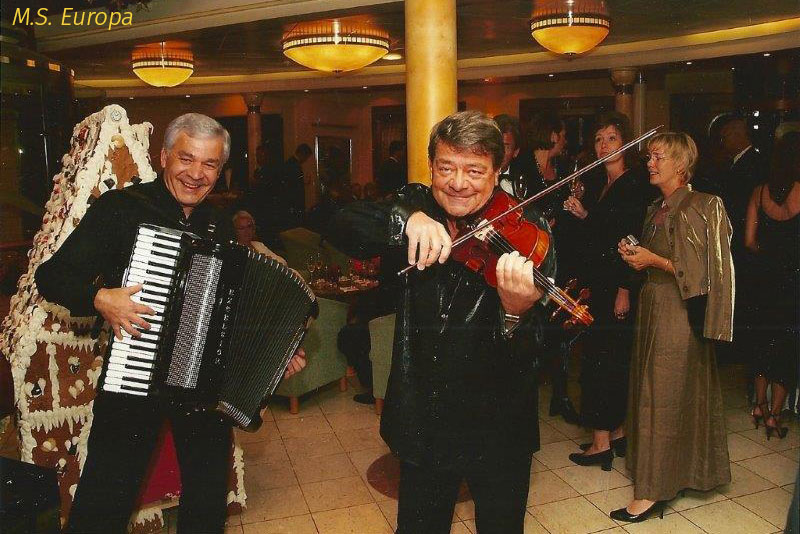 Horea Crishan with Nicolae Turcitu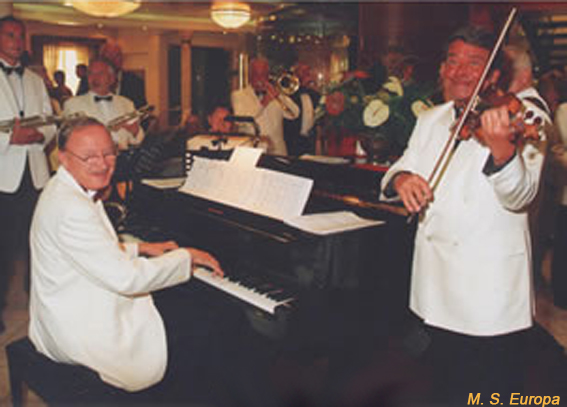 Horea Crishan with Alexander Gorelenko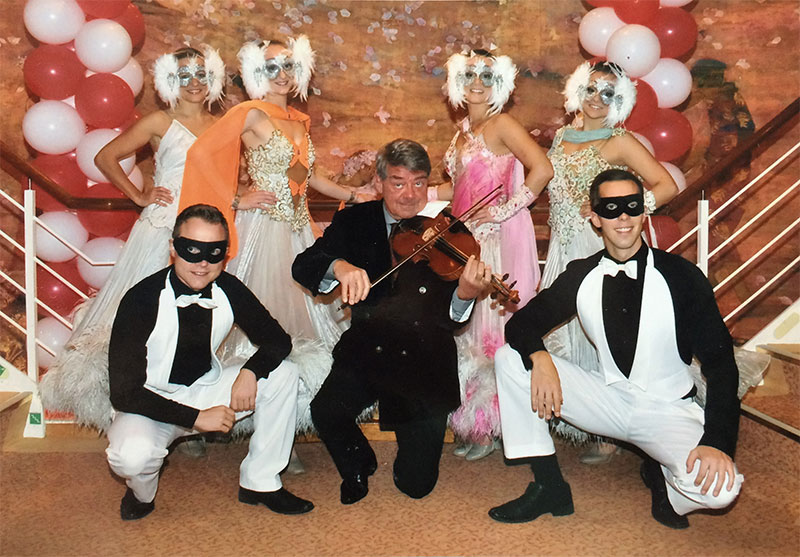 Horea Crishan was born in the Romanian city of Sibiu (Hermannstadt). During his studies at the Bucharest conservatory, Horea Crishan met many well-known musicians, most of them gypsies who played fantastic café and gypsy music. Their music had a great influence on Crishan and he learned a lot from the old masters. With his big heart for expressive, emotional music Horea fell in love with the fiery gypsy tunes. He idolized Georges Boulanger, the world-famous gypsy violin player from Romania, who was a great success in Berlin in his heyday.
After his state examination as a violinist at the conservatory in Bucharest he moved to the Federal Republic of Germany. He has played the violin for the NDR Elbphilharmonie Orchestra in Hamburg. Hundreds of concerts in many different countries with the best-known conductors and soloists of the world made him into an orchestra musician with heart and soul.
As a musician in the NDR – Symphony Orchestra Crishan had had the chance every now and then to continue to play this music. Finally, though, he fulfilled his dream of forming his own small salon, café and gypsy music group with other outstanding musicians.
Horea Crishan captivates his audience with his duo of violin and accordion or violin and accordion. He enchants with the temperament and romance of his music and with his thrilling tunes. He succeeds in giving every festive event a very special charm.
His repertoire includes:
Viennese music: Johann Strauß – The Blue Danube, Frühlingsstimmen ("Voices of Spring"), Wiener Blut ("Viennese Spirit")
Fritz Kreisler: Schön Rosmarin ("Beautiful Rosemary"), Liebesleid ("Lover's Grief")
Hungarian gipsy music
Russian gipsy music
Georges Boulanger: Avant de Mourier, Amoureuse, Pizzicato Waltz
Gipsy Song (Komm, Zigány), Jalousie (Tango Tzigane), Fascination (Valse Tzigane)
Thaïs Meditation (J. Massenet), Hungarian Dance (J. Brahms), Csárdás by Monti, The Lark etc.
For twenty years, Horea Crishan, the pan flute or violin soloist, has been a very welcome guest on many gala events and the big cruise ships like MS Europa, AM Amadea, MS Deutschland or MS Bremen.
Horea Crishan, violinist from the NDR Elbphilharmonie Orchestra in Hamburg, is one of today's leading pan flutists.
In 1979 he began studying this instrument.
By artfully joining the highest philharmonic precision with the instinctively evocative power of music, Crishan developed a totally unique and very personal style.
A true natural, he was soon discovered by James Last, Eugen Cicero, and others. "The pan flute", Horea Crishan says, "It opens up a whole world of feelings and all dimensions of music."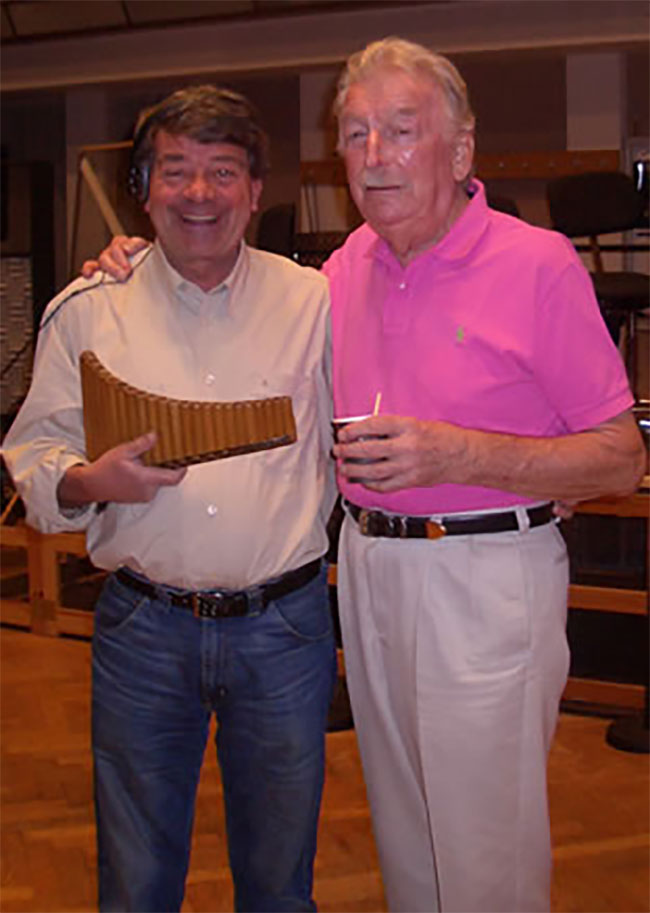 Horea Crishan and James Last
Horea Crishan appeared with the well-known jazz pianist Eugen Cicero, with the big Promenadenorchester (promenade orchestra) Alfred Hause which he joined for several tours of Japan, and the world-famous James Last Orchestra. The wide range of his repertoire includes folk music, popular music and classical music. He dazzles (fascinates) in combinations like pan flute and organ, pan flute and accordion, pan flute and harp, or pan flute and chamber orchestra.
For twenty years, Horea Crishan, the pan flute or violin soloist, has been a very welcome guest on many gala events and the big cruise ships like MS Europa, MS Deutschland, MS Amadea, MS Astor or MS Bremen.
Of all his recordings for the label Intercord and Polydor, his biggest success was "Paradiesvogel" with the James Last Orchestra. His latest collaboration with James Last was recorded in the summer of 2007: several compositions for a film score of a new Constantin movie.
He uses pan flutes made by Gheorge Georgescu, one of the world's best and most famous master builder of pan flutes.
Pan flute with chamber orchestra:
G. H. Stoelzel
Concert for Pan Flute and Trumpet,
Horea Crishan with Prof. Hannes Läubin